Ashley Wagoner - 2012 Volunteer of the Year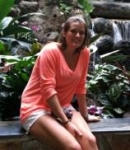 The Nutmeg State Games are proud to announce Ms. Ashley Wagoner as the recipient of the 2012 Volunteer of the Year Award. Ms. Wagoner is in her second year of volunteer service to the Masters' and Nutmeg State Games. Ashley holds a Bachelors Degree in Nutrition & Dietetics, is certified as an Personal Trainer (NSAM, CPT), is completing a Bachelors Degree in Exercise Science, and is an EMT. She is also a state of CT eligible coach-- where she has coached middle school track & field & cross-country. Ashley is also a certified AEMT in the state of Connecticut where she continues to practice her skills at VinTech Management, LLC & Bristol Hospital EMS, LLC.
Ashley works full-time, yet found the time to provide over forty hours of medical support coverage to the "Games." Ashley's professional comportment and cheerful presentation is unmatched. Her on-field care goes above and beyond what is expected of her we are so thankful for all of her service. Ms. Wagoner exemplifies the spirit of the Nutmeg State Games and is professional and dependable. She served for a very significant number of hours and covered a variety of venues and sports. We express our sincerest gratitude to Ashley and congratulate her on this recognition.