NUTMEG BASKETBALL COACHES CLINIC!
CONNECTICUT'S PREMIER COACHES CLINIC
The Nutmeg State Games is proud to announce the 2nd Annual Basketball Coaches Clinic.
The 2014 Nutmeg State Games Coaches Clinic is a two day event which will take place on Friday, September 19th and Saturday, September 20th.
Don't miss the chance to meet and learn from some of Connecticut's finest coaches!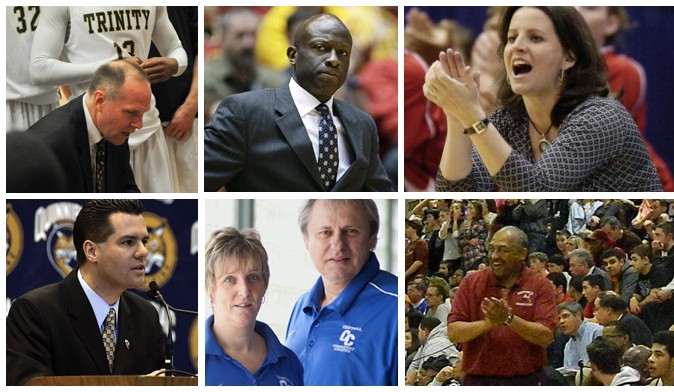 Friday, September 19th
8:30 AM -9:45 AM - Registration & Breakfast

10:00 AM -11:00 AM - Session #1

11:15 AM -12:15 PM - Session #2

12:30 PM -1:30 PM - Lunch

1:30 PM - 2:30 PM - Session #3

2:45 PM - 3:45 PM - Session #4

4:00 PM - 5:00 PM - Session #5

5:00 PM - 6:15 PM - Reception
Saturday, September 20th
9:00 AM -9:45 AM - Session #6

9:50 - 10:35 AM - Session #7

10:45 AM - 11:20 AM - Session #8

11:30 AM - 12:15 PM - Session #9

12:00 PM - Clinic Concludes
The Nutmeg State Games is honored to welcome six talented and exceptional coaches. The Coaches Clinic is pleased to feature;
Howie Dickenman, Men's Head Basketball Coach, Central Connecticut State University
Tom Moore, Men's Head Basketball Coach, Quinnipiac University
Jennifer Rizzotti, Women's Head Basketball Coach, The University of Hartford
James Jones, Men's Head Basketball Coach, Yale University
Beryl Piper, Women's Head Coach, Central Connecticut State University
Anthony Latina, Men's Head Coach, Sacred Heart University
James Cosgrove, Men's Head Coach, Trinity College
Ken Smith, Boy's Head Coach, Windsor High School
Please click here for Coaches Bios.
These remarkable coaches will provide valuable insight and experience that has lead to recognizable success for their schools and athletes.
Prior to starting the Nutmeg State Games in 1989 Bill Mudano was a highly successful high school basketball coach.
In 14 years at Canton High School, coach Mudano's team won 199 games while losing only 99 times for a winning percentage of .667. His teams played twice for the state championship (1978 and 1981) and won the title in 1978. In 1981 his team was the #1 ranked Class S Team for most of the year and finished the season at 22 and 4 losing to Bacon Academy in the state championship game at Central CT State University.
During his over 20 years of coaching high school basketball, coach Mudano has had the opportunity to attend numerous coaching clinics both in Connecticut and all over the Northeast and knows what it takes to offer today's coaches a valuable and informative clinic.
He has assembled, for the for the 1st Annual Nutmeg Basketball Coaches Clinic, college and high school coaches who have learned their craft from the very best and are anxious to pass along their insights and coaching techniques to you!

Parisi Speed School (Bristol & Enfield) is the Official Training Partner of the Nutmeg State Games!
With over 75 locations nationwide, the Parisi Speed School is recognized as the country's premiere athletic performance enhancement organization for youth athletics. Using techniques that have produced over 190 NFL draft picks, our specially trained performance coaches deliver a positive training experience that improves speed of movement and strength in character regardless of ability or economic status.
Whether training individual athletes or entire teams, athletes see clear results in performance and self-confidence from our programs. Call us today for more information and a free introductory class.