Northeast Football Showcase
The Northeast Football Showcase event provides players with the ability to be evaluated by college coaches while at the same time being professionally filmed.
The event is held on Saturday, May 10th prior to the start of high school spring football training. We will have a NEW Host facility in 2014 - Cheshire High School...!
Videos will be provided online to each participant within a couple of weeks after the event. Players can send the video link to any schools they are interested in.
Additionally, each coach will receive your academic and athletic profile and contact info.
Please click here to view players videos from the 2013 Northeast Football Showcase
To view results, videos and pictures from the 2012 Northeast Football Showcase please click here!
If you have any questions please contact us at: info@nutmegstategames.org.

Who: The Nutmeg State Games is a 501(c)(3) Not-For-Proft organization dedicated to providing a forum that initiates and encourages camaraderie between different ages, socioeconomic and cultural groups through athletic competition and the Olympic spirit. The event assists in the development of physical fitness and promotes positive healthy activities for the participants, their families and the communities where they live.
What: The Nutmeg State Games is the largest amateur multi sport Olympic-style sporting event in Connecticut. We are now celebrating our 26th year of uniting Connecticut's residents in the common bond of amateur sport and Olympic spirit. This event is recognized by the US Olympic Committee and the Nutmeg State Games is a member in good standing of the National Congress of State Games.
Where: The "Games" will be hosted by the City of New Britain in 2014. Competitions will also take place around the state of Connecticut at top college, high school and municipal venues.
Participants: More than 6,500 participants, 550 coaches and over 20,000 spectators will take part in the 2014 Nutmeg State Games representing every one of the 169 cities and town in the State of Connecticut. Participants range from eight to eighteen years of age. Since the inception of the Nutmeg State Games in 1989, more than 135,000 amateur athletes have participated in the "Games".
MISSION OF THE "GAMES"
To recognize and reward Connecticut residents, of all ages, who have chosen to participate in healthy, wholesome activities that reflect positively on them, their families and respective communities.
To promote and reinforce the Olympic spirit of Competition that values sportsmanship, effort and achievement.
To motivate personal development in physical fitness and health through attainable goals.
To provide a forum that initiates and encourages camaraderie between different ages, socioeconomic and cultural groups through athletic competition and fair play.

The Northeast Football Showcase is offered for High School & Prep School Students:
Freshmen
Sophomore
Junior
Senior
Post Graduate (PG) / Prep School
Junior High School students are welcome!
Registration (Check IN) 8:15 AM
Opening Statement 9:00 AM
Stretch & Warm-up 9:10 AM
Stations (By Position) 9:30 AM - 10:50 AM

40 Yard Dash
Bench Press
Vertical Jump
Standing Jump
Pro-Agility Shuttle 10:50 AM

Water Break
Positions (Offense) 11:00 AM - 11:30 AM

Quarterbacks
Running Backs
Tight Ends & Wide Receivers
Offensive Line

Positions (Defense) 11:30 AM - 12:00 PM

Defensive Line
Linebackers (Inside)
Linebackers (Outside)
Defensive Backs

One on One's (Pass Pro / Pass Rush) 12:00 PM
Special Teams 12:20 PM

Kickers & Punters
Long Snappers
Holders
Returners

NCAA Lecture 12:40 PM

Mike Ciotti - Showcase Director (Daniel Hand High School)

Steve Fillippone (Daniel Hand High School)
John Capodice (Berlin High School)
Duane Maranda (New London High School)
Don Drust Jr. (Cheshire High School)
Each participant will receive a 3 to 5 minute video (online) of their individual workout (all stations and positions)
Northeast Football Showcase T-shirt
Opportunity to showcase your skills in front of Division II and Division III college coaches
NCAA Information on Recruiting—Parents and athletes will learn about the recruiting process from the experts.
The Northeast Football Showcase is an extensive skills and drills video combine. We will have you execute all of the individual skills and some team skills. There will be no games just skills footage. This is a great opportunity to receive your individual skills video and work-out in front of college and prep school coaches.
Please Click on the Links below to view the Results:
(All results are listed in Alpha Order by Last Name)
2013 Northeast Football Showcase Top Performers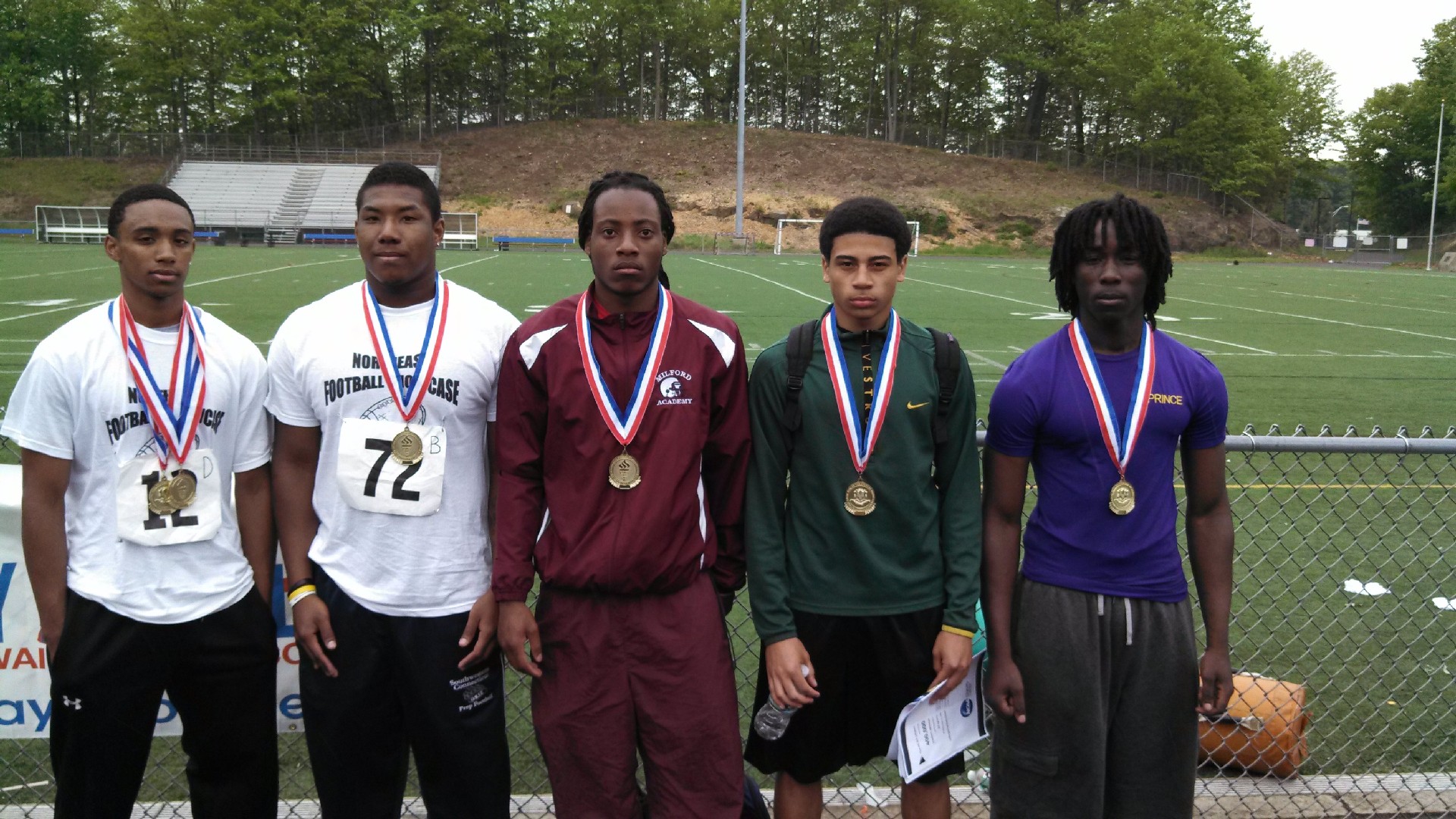 Pro Agility Shuttle: Devante Teel - 4.1 seconds
40 Yard Dash: Jose Garcia - 4.72
Bench Press: Nathan Hollie - 225 lbs x 18 reps
Standing Jump: Vernon McAlmont - 10' 4"
Vertical Jump (Tie):

Devante Tee - 10' 6 1/2"
Marc Desruisseaux - 10' 6 1/2"
2012 Northeast Football Showcase Top Performers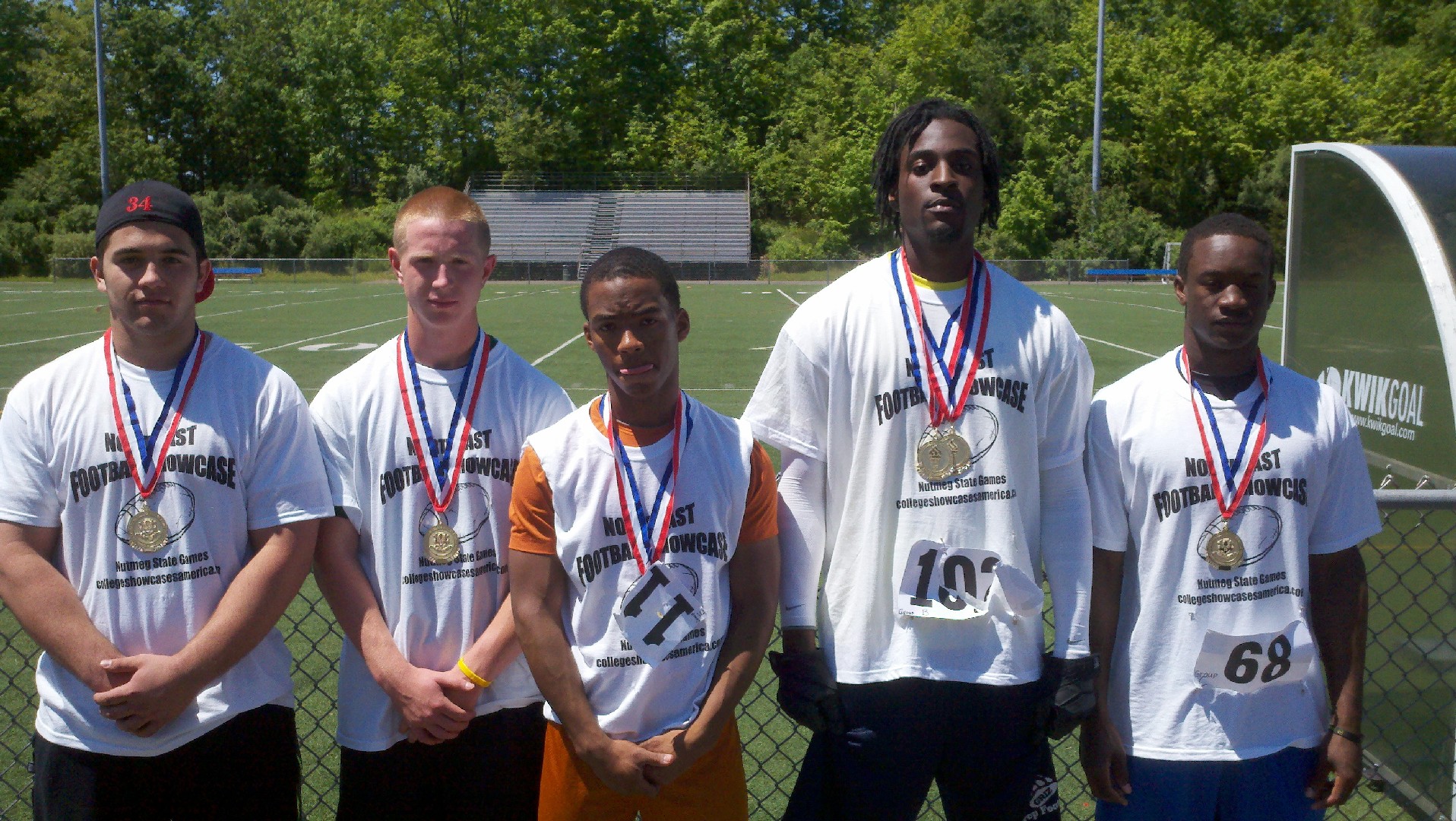 Nathan Cruz #76 Bench Press - 225 lbs x 21 Reps
Jeffrey Grygeil #67 40 Yard Dash - 4.76 seconds
Daquan Clark #11 Pro Agility Shuttle - 4.16 seconds
Jeffrey Charles #102 Vertical Jump - 11'1" (Highest Jump)
Isiah Grooms #68 Vertical Jump - 3' (Greatest Distance)