Rugby 7's Tournament
The Nutmeg State Games will be offering two seperate Rugby 7's Tournaments in 2013. This year's NERFU Sanctioned / Approved OPEN Rugby 7's Tournament will be held on Saturday, July 27th. The High School Rugby 7's Tournament for the 16 & Under and 18 & Under Divisions will be held on Saturday, July 20th.. Both tournaments will be hosted by the City of New Britain and held at Osgood Park in New Britain.
16&U Division - We Can only accommodate 8 Teams for the 16&U Division.

Fairfield Prep 15U, Cheshire, Amity

18&U Division - We can only accommodate 8 Teams for the 18&U Division.

Madison A, Madison B, Fairfielfd Prep U17, Fairfield Prep U19, Cheshire, Amity

OPEN (19 & Over) Division - We can only accommodate 8 Teams for the OPEN Division - NERFU Sanctioned

ECSU, Juicy Dudes (ECSU), Hartford Ronin Rugby, CT Yankees


The tournament format will be a Round Robin / Pool Play / World Cup format with a minimum 3 game guarantee.
The Rugby Tournament will use a World Cup Format to conduct the Tournament.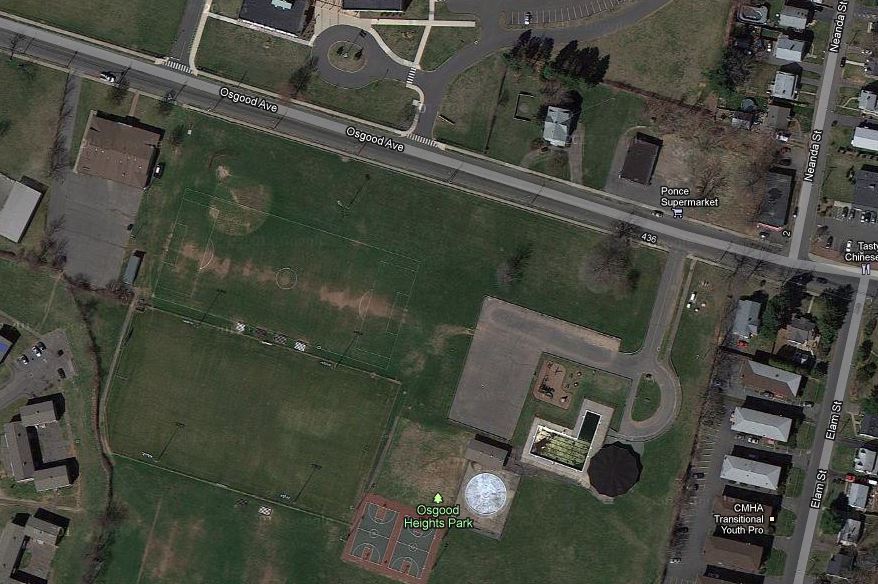 | Age | Division | Roster Max. | Age Cut Off |
| --- | --- | --- | --- |
| 19 and Over | Open - Male Only | 12 | N/A |
| High School | 18 & Under (Boys) | 12 | 7/20/13 |
| High School | 16 & Under (Boys) | 12 | 7/20/13 |
To be considered for the Nutmeg State Games a team must submit a team entry packet that consists of the following:
A properly completed Team Roster.

A properly completed Coach's Form.

A properly completed

Team Sport Athlete Entry Form

for EACH PLAYER ON THE ROSTER.

Proof of age (copy of drivers license, birth certificate, passport or players passes) for each athlete.
Send ONE CHECK covering the entire team entry fee for the appropriate sport, sent to:
Connecticut Sports Management Group, Inc.
50 Founders Plaza, Suite 301
East Hartford, CT 06108
Phone: (860) 528 4588
Fax: (860) 291 8032
No alcoholic beverages or illegal substances are permitted in the possession of athletes.
Behavior on and off the competition field by any person's associated with the "Games" must follow the highest standards.
Use of foul or abusive language constitutes a violation of the Code of Conduct.
All athletes must respect the decisions of the officials and umpires during and after competitions. Any harassment will constitute a violation of the Code of Conduct.
Unruly behavior by spectators towards players, coaches, volunteers, and/or officials will not be tolerated. Such behavior may result in the dismissal of the offending spectator from the competition site.
Any participant's behavior deemed in violation of the Code of conduct, as decided by the Nutmeg State Games administrative staff, subjects the competitor to expulsion from the "Games".
All teams are required to provide an official score keeper as part of their roster. We strongly recommend that the score keeper be an adult and must be present at each contest. The home team's (which will be determined by a coin toss before each game) score keeper will be the official score keeper for that game with the visiting team also keeping score as a secondary or back up score book. The official score keeper will sit with the administration and volunteers at the scorer's table or tent during the contest. The score keeper is now part of your roster and will be treated as a member of your team.
Due to the fact that all competition brackets are ROUND ROBIN formats, a team may not intentionally forfeit a contest; even though the game may have no consequence on the seeding of the tournament at the conclusion of round robin play.  Any team intentionally forfeiting a contest will be disqualified from further competition and the remaining teams will be re-seeded.
Game format will be:
Preliminary Round Games – Two seven minute halves.

Medal Round Games – Two ten minute halves.

Halftime – Five minutes.

5 substitutes per game.

Roster Maximum 12 – only 10 players allowed to participate per game.

Scrums consist of three players per team.
All coaches are responsible for assuring that all players are properly equipped.
Teams will be allowed a maximum of 12 players, two coaches and one scorekeeper for credentials and awards.

Teams are to provide their own game and practice balls.

Any player or coach ejected from a game may not participate in the team's next game.
Two-Team Ties: In the event of a two-way tie in the standings, the following tiebreaker system will be used (in-order) until the tie is broken
Head to Head Record
Record Against Common Opponent
Points Allowed
Points Scored
Coin Toss
Ties Involving Three or More Teams: In the event of a tie amongst three or more teams, the tie breakting system (above) will be used (in-order) until the highest seeded team is determined. Once the highest seed is determined, the remaining tied teams will RESTART from the BEGINNING of the tie breaking system.
| 2012 Medal Winners | | | |
| --- | --- | --- | --- |
| Division | Gold | Silver | Bronze |
| 16 & Under | Cheshire Rams | Fairfield Warriors B | Fairfield Warriors A |
| 18 & Under | Fairfield | Cheshire | Ronin |
| OPEN | Middlesex Savages | Providence Anchormen | Juciy Dudes |
| | | | |
| Division | Gold | Silver | Bronze |
| Open | CT Yankees | Hell Hounds | FP Alumni |
The Nutmeg State Games administration works closely with all Connecticut media outlets regarding any interesting stories about athletes and teams that will be participating in the "Games". If you have an interesting story to tell, we are all ears!
Human interests stories typically address situations "off-the-court". Do you volunteer in the community? Are you great at something other than the sport you are playing? Are you following in the steps of a a sibling or parent? Of course, if you are doing something great on the court please provide us with all the details.
If you, your team or someone you know fits any of these questions, please pass along this information or feel free to contact our office, and we would be happy to coordinate coverage on their behalf. - Please send all info to info@nutmegstategames.org.
College Planning Seminar & Pizza Party!
Hosted by the Nutmeg State Games and Play in College
DON'T WAIT TO BE DISCOVERED!
The Nutmeg State Games have partnered with Play In College, a Student Information System for athletes that helps parents and student-athletes increase the chances to receive college scholarships, and become educated on the admissions process while making it easy for college coaches to find the right player for their program... Derrick Rodgers, former NFL player will provide insights and his personal experience of the college recruiting process....and just for fun a pizza party at the Games to get to know each other.
The College Planning Seminar is FREE for all Nutmeg State Games athletes, coaches, parents and the general public to attend.
To Register to Attend the FREE College Planning Seminar please click here!
Join the ROCK CATS and the Nutmeg State Games as we honor all participating athletes at the stadium.
All participating athletes will receive a Free Ticket. Additional tickets (for parents and friends) can be purchased for $5.00.
To receive your tickets please sign-up at: www.rockcats.com/nutmegstategames
Friday, July 12th - 7:05 PM
Trenton Thunder vs. New Britain Rock Cats