The Chris Herren Story
Wednesday, July 25th - 6:30 PM - 8:00 PM
New Britain High School Auditorium
110 Mill St. New Britain, CT 06051
We can only accomodate 1,200 people for this FREE program. All attendees must register online!
Please Register ONLINE by clicking here to reserve your seat!
"From the Top to the Bottom and Back Again" the Chris Herren story is in response to increased use of alcohol and drugs among our youth and we believe strongly that our organization has a responsibility to the community in which we serve to educate about the associated dangers. The program will provide an effective personal story that delivers an extremely powerful message about a local athlete (Chris Herren) who ravaged his life with alcohol and drugs and ruined his career as a professional athlete.


The Drug Awareness Program will be offered as a FREE education program to New Britain Youth, all of 6,000 plus Nutmeg State Games participants and the general public.
Program & Timetable:
Wednesday, July 25th
6:30 pm - 8:00 pm
The "program" will be a presentation by Chris Herron, supported by video of his extensive and successful basketball career. Chris will explain in vivid detail the effects that alcohol and drug abuse had on his career and life. The presentation will last approximately one hour and will be FREE for all those who would like to attend.
About The Guest Speaker: Chris Herren
Educational Program on Drug Awareness "From the Top to the Bottom and Back Again" – Featuring Chris Herren Chris Herren, a basketball legend from Fall River, Massachusetts, realized his dreams by playing for the Celtics in the NBA, only to lose it all to addiction before rising again with a new dream.

Herren's basketball dreams began as a 6'2" guard at Durfee High School in Fall River, Massachusetts. A member of the Durfee High School team chronicled in Bill Reynold's book, Fall River Dreams, Herren excelled on the basketball court becoming one of the top Division 1 prospects in the country. His high school highlights include 2,073 career points, Gatorade New England Player of the Year 1993-1994, Boston Globe Massachusetts Player of the Year 1992-1994 and a member of the 1994 McDonald's All American team.

Attending Boston College his freshman year, he later transferred to California State University, Fresno to play for legendary coach Jerry Tarkanian. At Fresno State he was named to the All-WAC first team 1996 and 1997 and held school records in both assists and steals.

Herren's basketball success concealed a darker side, and his dream soon became a nightmare of addiction—first alcohol, then cocaine, finally heroin. A chaotic and often uncertain college career plagued by drugs and rehab led to the NBA. In 1999 he was drafted by the Denver Nuggets in the second round of the NBA Draft as the 33rd pick overall. After a year with the Nuggets, Chris was traded to the Boston Celtics where he suffered a season ending injury. Trying to work his way back to the NBA, Herren played overseas until 2003 when he came back to the States. His alcohol and drug use escalated until he was found unconscious with a heroin needle hanging from his arm in the driver's seat of his car.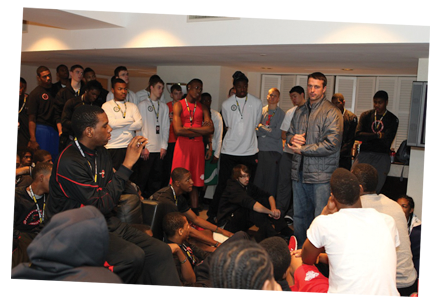 After extensive rehabilitation stays, Chris has been drug-free since June 4, 2008, and alcohol-free since August 1, 2008. Herren has refocused his life and dreams to put his sobriety and family above all else. Off the court he continues to share his story with audiences in the hopes of reaching just one person and making a difference in their life. His memoir written with Bill Reynolds, Basketball Junkie, was released in May 2011; in November 2011 a documentary based on his journey, Unguarded, aired as part of ESPN's 30 for 30 series.

With over ten years of basketball experience in the NCAA, NBA and Europe, Chris Herren will be able to offer our young audience a wealth of knowledge and insight fromon and off the court. Chris will tailor his message to educate our young audience about the dangers of alcohol and drugs, the lessons he learned from a life in the spotlight and the struggles he faced in dealing with his addictions.