Benjamin Starr - 2017 Athlete of the Year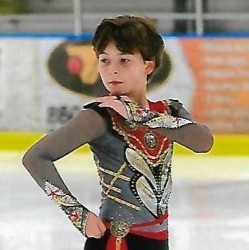 2017 ShopRite® Nutmeg State Games Athlete of the Year: Benjamin Starr - (Figure Skating)
Benjamin Starr has been turning heads on the ice since he first started skating. At the age of four he announced to his parents, "I do not want to walk like everyone else, I want to fly over the ice". With support of his parents and the help of his coach, former Junior World Figure Skating Champion Vladimir Petrenko, his dream is now a reality. Benjamin is one of the top young figure skaters in the United States and it's because he has put his heart into the sport he loves.
Benjamin's success could not have been achieved without his hard work and dedication to his dream. His rigorous practice schedule is just one of the ways he has accomplished so much. Benjamin usually spends 18 hours a week on the ice working with his coach to improve his skating. But his training does not stop there. In addition, he attends the Hartt School of Ballet at the University of Hartford and dedicates seven hours per week at ballet to gain flexibility and master control of his movements. Aside from the physical aspect of the sport, figure skating combines artistic expressions and dancing capabilities as well. Ballroom dance classes and classical piano training improve his skills in these areas. Ben has showcased his musical talent at Connecticut Music Spring Festival performances for the last three years.
All of Ben's hard work and incredible perseverance translate directly to nothing short of fantastic performances on the ice. He has participated in the figure skating competition for the Nutmeg State Games for the last six consecutive years, placing first each year without fail. As if his regular practice routine wasn't enough, in June 2017 Ben teamed up with skate partner Jenna Hauer and began training for the U.S. Figure Skating Championships scheduled to begin on December 29th. With only six months to train, he still managed to practice to compete at the Nutmeg State Games and at Regionals (in singles). In January of this year, Benjamin competed in the 2018 United States Figure Skating Championships in San Jose, California. There he and Jenna placed first in the Juvenile Dance competition, winning in all three phases of the event with an incredible point lead.
Off of the ice Benjamin also shines in the classroom. Ben's true desire for advanced learning is best exemplified by the fact that at the age of ten he enrolled as a part time student of Tunxis Community College. In order to do so, he had to pass an extremely difficult entrance exam, not to mention overcoming the significant age gap as his intelligence and maturity measured up to, and at times surpassed, his fellow students. Through his years at the college, he has earned respect and admiration from his professors and fellow students because of the dedication that he puts into his work.
In addition to his extreme perseverance and dedication to any task put before him, one of Benjamin's strongest qualities is his exceptional character. While he is extraordinarily bright and gifted, it has been his attitude of genuine caring and generosity combined with strong ethics that have helped bring him success on and off of the ice. He not only completes his own coursework and exams – he actively helps other students with their schoolwork while at the rink. Benjamin is a big fan of the Nutmeg State Games. The fact that the skating community that attends is very supportive of each other makes for an enjoyable competition. The "Games" also allow him to meet new friends, and he looks forward to reconnecting with old ones while competing in the sport that he loves.
Benjamin's phenomenal success as both an athlete and young adult embodies the Olympic Spirit, which requires mutual understanding, friendship, solidarity and fair play. We are proud to honor him with the ShopRite® ® Nutmeg State Games 2017 Athlete of the Year Award and we look forward to seeing him "fly over the ice" for many years to come!