Destiny Mateo - 2020 Athlete of the Year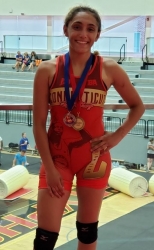 Destiny Mateo is an extremely accomplished multi-sport athlete and a diligent student. She recently graduated from NFA top ten in her class with high honors, and was chosen for the National Honor Society and Foreign Language Honor Society. In addition she was known to be an important contributor to the student body at Norwich Free Academy. Destiny has participated in the ShopRite® Nutmeg State Games since 2013 and has been involved in sports for even longer.

Destiny has been competing in Judo since the age of seven. She participated in the Nutmeg State Games beginning at the age of nine, and won the Gold in the 9-10 year old division of Judo in her first year of competing. Since then, Destiny has been a staple at the Nutmeg State Games Judo competition, Taking Silver and Bronze in 2014 in both the age 9-10 and 10-12 83-95 lbs. divisions. In 2015, at age 11, she took home the Gold in her own 10-12 division and the
Silver competing up in age in the 13-16 division. In 2016 and 2017 Destiny has placed first each year she has participated in the Nutmeg State Games Judo tournament; Taking home the gold in two divisions in 2016 and two divisions in 2017.

Outside of the Nutmeg State Games, Destiny has had the privilege of being part of team USA Judo. While traveling with the USA Judo team, she placed third in the Pan American Judo Championship in Cordoba, Argentina in 2015 when she was eleven. She also was going up again competitors four and five years older than her. At the time, her instructor Henry Arroyo – a third degree black belt, said" For her age she is very good. She is on an international level now."
Destiny has competed in Argentina, Canada, and across the United States. She placed 2nd at the US Open for Judo in 2015, Fort Lauderdale, FL.
In addition to thoroughly enjoying to compete in judo, she is also an accomplished wrestler which she got started in when she was eleven. In 2016 and 2017, Destiny won back to back Girls Connecticut Wrestling Championships. In the
2018 Nutmeg State Games Wrestling Tournament, Destiny was the only girl to compete in the boys division. She placed fifth. In 2019 her resolute determination was proven when she competed again as the only girl in the boy's division and took home the Silver. She was named a 2018 All American wrestler after the Nuway Summer National Wrestling tournament in Atlantic City, New Jersey. Destiny loves the community that wrestling offers as well.
In Canada, she has participated in the Ontario Cup; in 2018 she placed third while wrestling a level up from weight class. In 2019, she came in 1st place in the Ontario Cup in the Junior Division and 2nd in the Cadet Division. Her brother, Raul, is also successful in combat sports, placing 1st in his division at that same tournament. Destiny has many other accomplishments on the mats, even being a finalist in the 2016 Pin Cancer wrestling tournament in the boys division. In
2018, she came in first place at the Super 32 Qualifier, and in the Super 32 tournament in Greensboro, North Carolina. She was the only competitor from Connecticut to medal at this event.
Off the mats, Destiny was involved on the track and field, and cross country teams at Norwich Free Academy. In addition to being ranked very high in her class, taking multiple AP and honors classes, she also has taught herself multiple
instruments, and has an incredible singing talent! She has sung the National Anthem at various Nutmeg State Games venues for the last several years.
Her biology teacher, Elizabeth Raynor described her as "one of the most determined, hard-working, and well balanced students" and, "one of the most compassionate and well-mannered women I have met in my teaching career. She is
truly an asset and to any community, and any group is the better for her participation." As an athlete and a student, Destiny is a role model for her peers, and girls everywhere.
Destiny is attending Eastern Connecticut State University where she was accepted into its bio-medical program. Of the many candidates for Athlete of the Year, one athlete rises to the top, excelling in leadership, showing great sportsmanship, and tremendous determination. It is obvious that Destiny displays the true Olympic Spirit both on and off the mat. We are proud to award Destiny the 2020 Nutmeg State Games Athlete of the Year! She has a very bright
future ahead of her, and we at the "Games" can't wait to see what she does next!