Lauren Toia - 2016 Athlete of the Year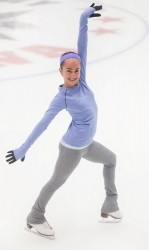 Most nominations for the Athlete of the Year Award are sent from deservedly proud parents, family members, and coaches. But when a nomination comes in for an Athlete of the Year with supporting letters from National and International Champions, World Competitors AND Olympians one cannot help but take notice. Such is the case of the nomination for Lauren Toia, a very talented 12 year old Figure Skating athlete.
Lauren took her first steps on the ice at the age of four (4), under the tutelage of Natalie Buck (National Ice Dance Champion for Australia and World ISU Figure Skating Champion) at the Finer Edge Figure Skating Club in her hometown of Ridgefield. Her coach and fellow skaters, as well as the club president, took notice of how determined she was and how hard she worked to master new elements at such an early age. However, when a bench fell on her at a rink, Lauren endured several difficult hand surgeries that kept her off of the ice for long periods of time, so her training was delayed until she was six.
The delay of her training only enhanced her personal commitment and dedication of nothing less than excellence in her learning & training, strength & coordination development, and overall fitness. She worked harder than ever and won several medals in many competitions including her first year at the ShopRite Nutmeg State Games in 2013, where she took "The Gold" in Freeskate 1 and qualified for the State Games of America in Nebraska. This was a very proud and incredibly exciting moment for Lauren since up until that point she had attended both the State Games of America in San Diego and Pennsylvania- cheering on her older sister Lindsay. Nebraska was to be her time to shine!
Lauren's mother will never forget the day, nor the look of disappointment on Lauren's face, when she had to tell her the heartbreaking news that she would not be able to compete at the State Games of America. In June of 2015, Lauren suffered a spontaneous brain hemorrhage robbing her of all ability to eat, talk and walk.
It was doubtful whether even a full recovery would bring these basic functions back, let alone the ability to skate.
Lauren committed herself, without complaint, to learn everything all over again - literally. In addition to countless hours of physical therapy, she also worked with her coaches to regain her strength and coordination – and re-learn her skating skills. And re-learn she did. Competing at a level that was higher than what she had competed in before the brain injury, she had a Gold Medal win at the Cranberry Open in Cape Cod, and this past July won a Silver Medal at the ShopRite Nutmeg State Games which earned her that coveted place at the State Games of America in Michigan this August.
Her high caliber peers attribute some her success to her excellent fitness and the lessons of strength and determination that the she learned from the sport of figure skating before the incident. Lauren's long time coach Natale said it best: "At what point does one merge from being somebody who loves to skate to a young dedicated athlete? What are the characteristics that make an athlete? My personal opinion is that there is more to an athlete than strength, talent and being the best at what they do. An athlete is a state of mind and way of life. It is making goals and doing what is needed to achieve them. Pushing though the struggles and inhibitions in the hope that they will make you better and stronger. It is the ability to overcome failure gracefully and use those setbacks to push though boundaries both physically and mentally". Longtime coach and personal friend, Natalie has seen firsthand that Lauren possesses all these very rare and unique qualities of an athlete. She often wondered how Lauren continued to push on with such determination and grace - pushing through so many struggles with such persistence and determination (like no one else she had seen) to achieve the goals this young athlete had envisioned for herself. Lauren's parents appropriately describe her as embodying "the spirit of a true athlete".
Lauren even wrote fan letters and notes of encouragement to Brooklee Han – Australian Olympic Team member, and friend, whose mother is the President of the skating club that Lauren belongs to. Brooklee noted "… but her ability to succeed in the face of such adversity is even more encouraging. When I am having a rough day on the ice, I think about what Lauren has done and all the challenges that she faced and I realize how small my problems really are. She inspires me to push on and chase after all my goals both on and off the ice"
To inspire and Olympian, especially at such a young age is practically unheard of.
Lauren has not only excelled in her mental and physical achievements. Her personal life choices have proven she is already mature well beyond her years. Lauren and her family are incredibly humble and the "Attitude of Gratitude" they have can be seen in their words and actions.
The battle Lauren fought to return to her own level of expectation has exponentially heightened her appreciation for -and desire to- give back to- those who helped her, as well as others in need – and her actions prove her intent to promote kindness and goodwill. On her twelfth birthday this past April, she and her friends made "Ben's Bells" – an activity that helps an amazing organization fulfill its mission or recognizing the importance of kindness. But she didn't stop there. In lieu of gifts, Lauren accepted toy donations for the Child Life Department to "give back" to Yale Children's Hospital in appreciation for everything the doctors, staff and therapists had done for her. She also chose items to donate to the hospital's holiday wish list last Christmas and has recently taken a collection to donate to Children's Cancer Research.
We, the administrators and Board of Directors of the ShopRite Nutmeg State Games and the CT Masters' Games, believe that participation in athletics provides opportunities to develop leadership qualities such as hard work, self-confidence and mental and physical toughness. We believe competitive athletics lays the foundation for positive lifelong habits that contribute to a healthy life style and teaches team work, sportsmanship and respect for others.
Lauren Toia is the model example of all of those qualities and many, many more, making us very proud to honor her as the ShopRite Nutmeg State Games Athlete of the Year!