Madison Epke - 2019 Athlete of the Year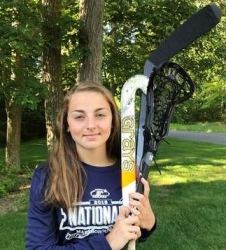 At only 15, Madison Epke of Guilford, CT is an extremely talented three sport athlete, a dedicated student, and a vital member of the student body of Guilford High School. Maddie has earned high honors at GHS both her freshman and sophomore years, and is section lead in the high school orchestra for the standup bass. Maddie has participated in The ShopRite® Nutmeg State Games for the past seven years, and has been involved in sports for even longer.
Maddie has been playing ice hockey since she was five years old. She participated with the U12 Shoreline Sharks in the Nutmeg Games in 2015, earning a silver medal. Playing for the Hartford Junior Wolfpack U14 Tier 1 team 2018-2019 season, she had a remarkable 22 goals and 31 assists. She helped her team become CT State Champions, New England Regional Champions and participated in the USA Hockey National Championships in Anaheim, CA. During the same 2018-2019 season, Maddie also competed with the Guilford High School Varsity team. A local newspaper reported, "Epke earned All-SCC Second Team honors for Guilford after finishing the year with a total of 43 points." She was named the team MVP, was one of the top 3 point leaders in CT and had 26 goals and 17 assists. Maddie helped lead GHS to the best record in recent years of 10-10, as well as a trip to conference playoffs On 1/24, GHS played in the CT Girls Ice Hockey Showcase Game at the Webster Bank Arena in Bridgeport against Sacred Heart Academy of West Haven. Guilford won 7-6 in overtime where Epke scored the winning goal. She also had 5 goals and 2 assists during this nail biter to help the team rally from a 5-1 deficit. In an article from Zip 06, a CT shoreline news website publication, Maddie said "I love to score goals in ice hockey. It's the hardest one to score in and, because it's on ice, everyone and the puck are moving very fast. After we score, my teammates and I always come together to celebrate." As of 2/24 in the 2020 season, the team has a record of 14-5
Maddie has also played lacrosse for the past 11 years. In the Nutmeg Games, Maddie has participated in 2013, 2014, 2015, 2016, 2017 and 2019. She has played with CT Crabs Lacrosse, Guilford Youth Lacrosse and Guilford High School earning 3 bronze, 2 silver and 1 gold medal. In 2017 she was selected to play in two national championships: The Brine National Lacrosse Clinic with the Nor' Easters and the US Lacrosse Youth National Championships with CT Elite.
In 2019, she played for the GHS Varsity Lacrosse team, where her mom, Wendy, is the head coach. She made 1st Team All-Conference, 1st Team All State, was one of the top 15 players in the New Haven area as a midfielder, had 210 draw controls, as well as 42 goals and 40 assists for the season. Also during 2019, she played on the Nor' Easter U15 Lacrosse Club team. She led her team in draw controls, was chosen for the WPLL Futures Regional, and to compete at the U15 US National Team Combine.
Her coach and co-director of the Nor' Easter club, Clarissa Clarke, said in an article, "She has a great mind for the game and loves being a student of the game, which is highly unusual for players her age. She is the ultimate teammate who is ready to work hard all the time and push both herself and her teammates in the best way. Maddie is extremely coachable and always has a smile on her face." Epke told a reporter for Zip 06. "My favorite part of lacrosse is catching. Since I picked up my lacrosse stick when I was five, it's always been something I challenge myself with. I spend time almost every day throwing and catching. I want to make sure that whenever I get passed to, I catch the ball."
As if playing ice hockey & lacrosse and being an honor student and section lead in the school orchestra aren't enough, Maddie has also played field hockey for the past five years. In 2018, Maddie earned the honor to compete in the US U14 Futures National Field Hockey Tournament. Maddie says, "I love to stick-handle around players in field hockey. Opponents will try to swarm around me and I love the challenge of getting out of a situation." In 2019, Maddie played on the Guilford High School team, where she was named 1st Team All State, and #5 in the SCC conference for scorers; having 23 goals and 10 assists for 56 points. She helped GHS earn a 14-0 overall record and become SCC Conference Champions, where she was named Most Outstanding Player of the SCC Tournament and Most Outstanding player of the CIAC State Field Hockey Championship Game.. Maddie was also noticed by the New Haven Register in an article that stated "She contributed to the Class M Champ Indians on both ends of the field and in the transition game last season she had six goals and eight assists. As a freshman, she started game one of the 2019 season, and played with more confidence as her freshman year continued. A three sport varsity standout for the Indians, her coach Kitty Palmer called her a very talented and gifted athlete." Her coach also said, "She's a three sport kid who we started as a freshman, she can control the middle of the field, and we depended on her last year."
Gifted and talented athlete as she is, Maddie credits her success to her parents, teammates and coaches. "I've had great coaches and teammates that have helped me on this journey." She said in a Zip06 article. "Luckily, my parents are always willing to go outside and throw a lacrosse ball, shoot pucks in the driveway, practice my drives and passes in field hockey, or set up an obstacle course to help with my footwork and agility."
Maddie is someone who never gives up, always looks for opportunity to practice her sports and improve her personal best. She says, "All the practices and extra work in my yard has led to success. I've learned that you are always going to find someone who's better than you and to never stop working hard. You can't think because you accomplish something in a sport, that you are finished training."
One athlete rises to the top, excelling in leadership, displaying sportsmanship and tremendous determination. It is evident that the Maddie embodies the true Olympic Spirit both on and off of the field. We are proud to award Maddie the 2019 Nutmeg Games Athlete of The Year Award! She has a very bright future ahead of her, and we at the "Games" can't wait to see where she goes!