Meghna Mazumdar - 2018 Athlete of the Year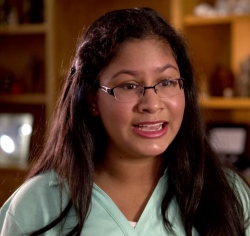 2018 ShopRite® Nutmeg State Games Athlete of the Year: Meghna Mazumdar - (Golf)
Have you ever met a person that was a mixture of Warren Buffet and Tiger Woods? Well then, meet Meghna Mazumdar. At age 16, Meghna is not only a seasoned investor having started investing in the stock market from age 11, but she is also a prolific golfer who has won several tournaments in the State of Connecticut and has been named the winner of the National OPLS Leadership Scholarship beating out nearly fourteen hundred other junior leaders from all over the United States. Following up on the heels of that success, Meghna's latest accomplishment is being named the ShopRite® Nutmeg State Games 2018 Athlete of the Year!
Meghna started playing golf at the age of six and quickly learned sportsmanship and honesty by taking on the responsibilities of self-scoring, since in golf there are no referees or scorekeepers. She soon discovered that by blending the rules of the game with life and leadership skills, kids didn't just learn how to putt; they were learning important values in life.
Meghna first played in the ShopRite® Nutmeg State Games in 2014 where she took home the Gold. To her credit over the last several years she has won two additional Gold medals, a Silver and a Bronze. Her love of golf and want of personal development, instilled by her parents at an early age, was well balanced and supported with her involvement with The First Tee of Connecticut's Nine Core Values and The First Tee Life Skills Experience.
The "First Tee" is a youth development organization that impacts the lives of young people by providing educational programs that build character, instill life-enhancing values and promote healthy choices through the game of golf. This organization has made such a positive impact upon Meghna that those that know her well would say she is a living example of their nine core values. In fact, she is so passionate about golf that on her own, Meghna met with multiple town officials and school administrators to get approval to create the first ever girls' golf team at South Windsor High School (SWHS). Not only did she receive unanimous approvals from the Town's School Board, she and her family did the vast majority of fundraising necessary to get the new SWHS Girls Golf Team off the ground. Furthermore, as a freshman, she recruited eight additional players (all in higher grade levels than herself) to fully form the team and compete at the Varsity level where the SWHS Girls completed a 6 – 4 winning season in 2018. Meghna's skill level at golf rivals her passion for the game. Despite being the youngest player on the team, she played first position in every match of the 2018 SWHS girl's golf maiden season and medaled in six of the ten matches she played. Her lowest score was a 42 on nine holes and her lowest score to date is a 39 on the front nine of the TPC in Cromwell. Some additional impressive statistics about Meghna include her longest drive recorded is 262 at the Forest Akers East Golf Course in Michigan; a Hole in One at Willowbrook Golf Club's 12th hole in 2014 and at age 13, winning the 2016 Wells Fargo First Tee National Succeeding Together Competition and thereby being invited to play with Rory Mcllory who at that time was ranked World Number 2at the Wells Fargo PGA Tournament Pro-Am.
None of these accomplishments have gone to her head. She remains humble despite the opportunities, exposures and accolades she received. Meghna is a remarkably confident and poised young woman. She attributes her calmness on and off the golf course to her almost decade of playing golf and says "golf has taught me to organize my mind from a state of reactive compulsion to a state of thoughtful consciousness…which helps me in all walks of life … as a leader, a high performing student and a competitive golfer". She is well liked and respected on her team at school and is a source of constant encouragement to her peers. In regards to sportsmanship, Meghna's, personal code of conduct, display of dignity and grace in both victory and defeat are life skills displayed by athletes well beyond her years.
In addition to the golf team, she is an "A" student at school and juggles her academics with other activities such as swimming, dancing competitively in the school's show choir, training for the CATS leadership team, coordinating pep rally events and even participating in team uniform design.
She is also passionate about teaching today's youth to learn about fiscal education and appeared live on the NBC Today Show where she encouraged teens to start saving early and shared her knowledge of investment education nationally. Additionally, she taught a class within her town to youngsters between 5 -10 years of age on various financial topics all the while emphasizing the importance of starting to save early and often! It was a huge success and she has been asked by the Town officials to teach again next summer.
Meghna's phenomenal success as both an athlete and exceptional character as a young adult embodies the Olympic Spirit which requires sportsmanship, respect, mutual understanding, friendship, solidarity and fair play. We are proud to honor Meghna with the ShopRite® Nutmeg State Games 2018 Athlete of the Year Award and look forward to seeing her play, educate and encourage others with her great skills, attitude and beaming smile for many years to come!