General David Gay - Donald "Dee" Rowe Award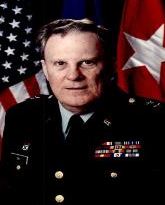 In 2015, the Connecticut Sports Management Group, Inc. established an award for a most deserving group, our Board of Directors.
Presented to a member of the Board of Directors of the Connecticut Sports Management Group, Inc. who, over an extended period of time,has made substantial and significant donations of personal time, effort and resources to help further the goals and objectives of the organization which are:To "Recognize and Reward Good Kids Making Good Choices" and to promote Health and Wellness among masters and senior athletes
General David Gay
Member Nutmeg State Games Board of Directors for 11 years!
President, Board of Directors (1998 - 2000)
Major General David Gay began his military career began when he enlisted in the United States Marine Corps in 1953. He continued to serve in the military for the next 46 years. After three years of active duty he transferred to the USMC Reserve before enlisting in the Connecticut National Guard in the Nike Missile program. He was discharged from the enlisted ranks in 1962 to accept a commission as a second lieutenant after graduating from the United States Army Field Artillery School, Ft. Sill, OK. He spent the early part of his career in the 1st Missile Battalion, becoming a battery commander. He transferred to the infantry in 1971, remaining there until 1977. He continued to rise through the ranks, being promoted to assistant Chief of Staff for training in 1984 and served a two-year active duty tour as the United States Property & Fiscal Officer (USPFO). After 36 years of military service, In 1992 Gay was appointed Adjutant General and was concurrently promoted to the rank of Major General while serving as Commander and Chief of Staff for the Connecticut National Guard. Gay was reappointed after his initial term and served as Adjutant General until his retirement in 1999.
Major General Gay has received the U.S. Army Distinguished Service Medal along with dozens other federal and state medals. Among them are the Meritorious Service Medal, The National Defense Service Medal with Service Star, USMC Good Conduct Medal, Outstanding Volunteer Service Ribbon and several State Emergency Service Ribbons. During his career, MG Gay earned two of the most prestigious awards this nation gives to its military officers--the Legion of Merit and the National Guard Bureau's Eagle Award. General Gay is a member of the Artillery Hall of Fame and has been presented the Order of Saint Barbara and the Order of Saint Michael.
During his service in uniform and after his retirement General Gay's commitment to public service never faltered. He has been a long-time supporter and member of the Manchester American Legion, Post 102, and the Army Navy Club of Manchester. In 1994, the General was asked by then Governor Lowell Weicker to assist in the operations planning and execution of the 1995 Special Olympics World Summer Games. From 1995 through 2005, the General held both Executive and Volunteer positions with the Nutmeg State Games, including service as President of the Board of directors from 1997-2000.
Gay, having three children of his own, demonstrated a keen interest in the welfare and development of young people. He was a key supporter of the Character Counts program, serving on the Character Counts State Advisory Board and receiving the national Character Counts Centers of Influence Award. In 1995, he recognized the emerging computer technology field and developed "Computer Camp for Kids" to benefit the children of Guard members. And from 2002 to 2007 the General also served as a member of the Board of Trustees for Connecticut's Community Colleges. Of all his many accomplishments and contributions to others, one of great significance was his, and his wife Nancy's, long commitment and support to the Connecticut National Guard Family Program. General Gay always took the time to become personally involved in the joys and sorrows, successes and failures of his National Guard family and in doing so, he earned the respect and loyalty of all Guardsmen who served with and for him.
General Gay's civilian awards include UNICO's National Award for Americanism and the Center of Excellence Award from the Josephson Institute of Ethics. He has also been recognized with the Distinguished Alumni Award from Manchester Community College and presented the President's Distinguished Alumni leadership award from Eastern Connecticut State College. In 2014 he was inducted to The Connecticut Veterans Hall of Fame. Those who are selected for this high honor are only honorably discharged military that continue to serve their communities, state and nation and who continue to inspire their fellow man with their deeds and accomplishments throughout their lifetime.
Senator Christopher Dodd said it best in his Tribute to Major General Gay in May of 1999:
"Beyond his duties as Adjutant General, ranking member of the Governor's Military Staff and commissioner of the State Military Department, General Gay has committed himself and his troops to taking positive action to improve the communities of Connecticut. Most noteworthy are the host of youth programs that began under General Gay's tenure. Many of them are a part of the Drug Demand Reduction Program which brings National Guard personnel into the community to serve as role models for children, to encourage youth to excel in school, and to convince kids to avoid drugs. The various and ingenious offshoots of the program, including Take Charge, Character Counts Coalition, Safeguard Retreat, 8viation Role Models for Youth, and Say ``Nay'' To Drugs have swept the state. Last year alone, under General Gay's able leadership, those programs touched nearly 20,000 children in 88 towns across Connecticut. Furthermore, General Gay serves as president of the Nutmeg State Games which feature Connecticut's finest young amateur athletes. Beyond his own time, he has committed the resources of the Guard to support the Games thereby enhancing the experience for athletes and spectators alike."
Major General David Gay's contributions and efforts on our behalf are sincerely appreciated by every Staff Member, Board Member, Athlete, Coach and Parent that has ever been involved in the games. Helping to lay solid foundations in the fledgling years took a tremendous balance of his personal resources as well as those of the CT Army National Guard whose many resources he "enlisted" throughout the years. We are most honored and proud to award Major General David W. Gay with this year's Donald "Dee" Award.