Gerald F. Twigg - Donald "Dee" Rowe Award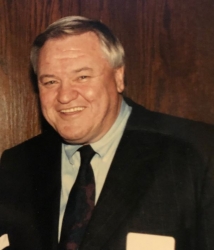 In 2015, after 27 years, the Connecticut Sports Management Group, Inc. established an award for a most deserving group, our Board of Directors.
Presented to a member of the Board of Directors of the Connecticut Sports Management Group, Inc. who, over an extended period of time,has made substantial and significant donations of personal time, effort and resources to help further the goals and objectives of the organization which are:To "Recognize and Reward Good Kids Making Good Choices" and to promote Health and Wellness among masters and senior athletes
Gerald F. Twigg
Member Nutmeg State Games Board of Directors for 14 years! (1991 - 2004)
Vice President of Board of Directors (1999-2000)
President Board of Directors (2001-2003)
Growing up in Rhode Island, sports was always in the forefront of Gerry's activities. Always up for a neighborhood game of basketball and baseball. He carried his involvement in these sports to high school and college, adding lacrosse along the way. Gerry was engaged in youth sports while in college. Coaching youth leagues while attending Siena in upstate New York. His participation followed him after graduation, back to Rhode Island where he was involved with inner city youth league basketball programs. As coach, and many a time, chauffeur, picking up his players at their homes and driving them to practices and games.
Gerry's career path took him to Hartford in 1976 when he was made the General Agent of MassMutual Life Insurance, before establishing Hartford Financial Associates in 1989. Coming to Hartford allowed him to continue his passion for sports with his involvement with UCONN, and the Hartford Whalers; highlighted with the experience of being asked to assist in the hiring of Whaler's GM Brian Burke.
Though his passion for college and professional sports was strong, he was always there to coach his son's various youth teams. Teaching the kids not only the fundamentals of dribbling a basketball, or hitting a baseball; but more importantly to try hard, enjoy what you're doing, and how to be a good teammate. This same philosophy carried over to his involvement in the Nutmeg State Games. Gerry believed in the people, and the purpose of the Games. He took pride in his involvement with the Games, and believed that this strong organization with such a positive message and deserved as much community support as could be given. He was always excited to see the growth in the Games, and would be proud to see them today due to the hard work, and continued efforts of so many.