13th Annual Raffle
On Fri., December 2nd, 2022 we will draw the winners of our 13th Annual Raffle to support the Nutmeg State Games & Connecticut Masters' Games. Each year we are faced with the daunting task of raising enough funds to be able to put on a first class events for Connecticut residents. Your support of the Raffle helps our organization to continue to offer the "Games" to over 11,000 plus amateur athletes and to motivate personal development through physical fitness.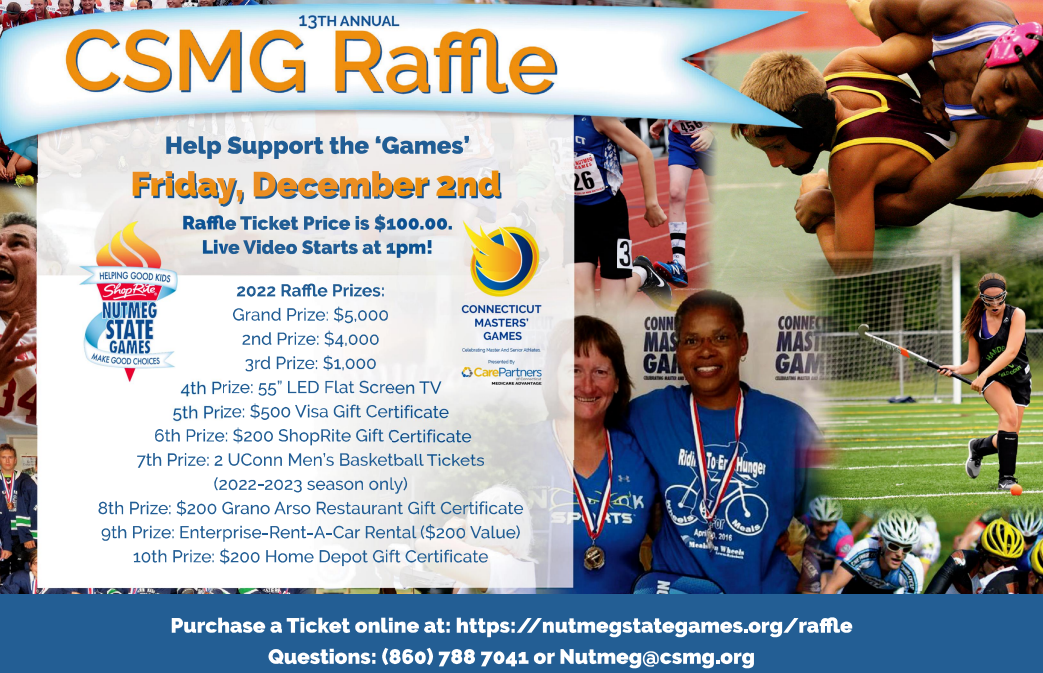 2022 Raffle Winners:
Grand Prize: $5,000, Ticket #117, Brendan Kennedy

2nd Prize: $4,000, Ticket #110, Diane Drust

3rd Prize: $1,000, Ticket #271, Mike Fiddler, Bob Hammer & Middletown Board of Umpires

4th Prize: 55" LED Flat Screen TV, Ticket #146, Tim Stewart

5th Prize: $500 Visa Gift Certifiacte, Ticket #070, Stephen Scott McAlindin

6th Prize: $200 ShopRite Gift Certificate, Ticket #170, Tyler Polk

7th Prize: 2 UConn Men's Basketball Tickets, Ticket #103, Doug Willie

8th Prize: $200 Grano Arso Gift Certificate, Ticket #025, Bill Baldyga

9th Prize: Enterprise-Rent-A-Car Weekend Rental – Value of $200, Ticket #227, Todd Fisher

10th Prize: $200 Home Depot Gift Certificate, Ticket #278, Brendan Feeney
Official Rules: Raffle Ticket Price is $100.00. Odds of winning are determined by the total number of tickets sold (325 total tickets available for purchase). Tickets can be sold for 90 days per the state raffle guidelines: September 4th thru December 2nd at 1:00PM.

Drawing: The drawing will take place on Fri., December 2nd at 1:00PM at the Connecticut Sports Management Group, Inc. office at 975 Middle St. Unit G. Middletown, CT 06457.
Please Note: Raffle Tickets are available for purchase from September 4th through December 2nd. Ticket holders need not be present to win. Grand prize, 2nd prize & 3rd prize winners are responsible for all personal taxes. Prizes #4, #5, #6, #7, #8, #9, #10 & #11 not redeemable for cash. The total number of Raffle Tickets available for sale = 325.
Questions: Please contact our office at (860) 788 7041 or nutmeg@csmg.org.