12th Annual Raffle
On Fri., December 3rd, 2021 we held our 12th Annual Raffle to support the Nutmeg State Games & Connecticut Masters' Games. Each year we are faced with the daunting task of raising enough funds to be able to put on a first class events for Connecticut residents. Your support of the Raffle helps our organization to continue to offer the "Games" to over 11,000 plus amateur athletes and to motivate personal development through physical fitness.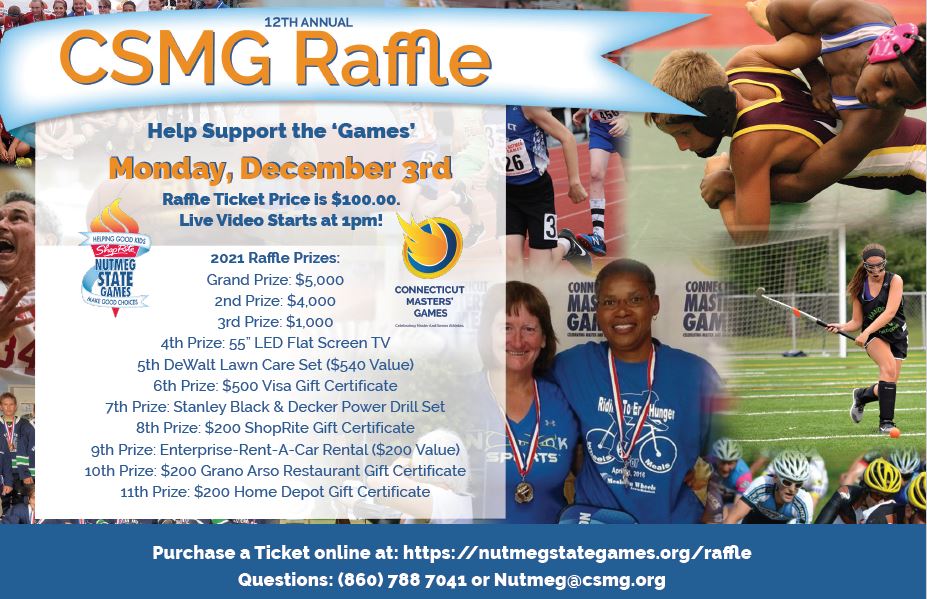 2021 Raffle Winners:
Grand Prize: $5,000, Ticket #151, Deb Smith

2nd Prize: $4,000, Ticket #214, Krista Kennedy

3rd Prize: $1,000, Ticket #152, Steve Baruch

4th Prize: 55" LED Flat Screen TV, Ticket #054, Adam Clemens

5th Prize: DeWalt Lawn Care Set, Ticket #313, Phil Sarubbi

6th Prize: $500 Visa Gift Certificate, Ticket #300, Mike Lorenz

7th Prize: Stanley Black & Decker Power Drill Set, Ticket #244, Jim Baldwin

8th Prize: $200 ShopRite Gift Certificate, Ticket #097, Rich Cohen

9th Prize: Enterprise-Rent-A-Car Weekend Rental – Value of $200, Ticket #290, Joe Smith

10th Prize: $200 Grano Arso Restaurant Gift Certificate, Ticket #241, Tim Stewart

11th Prize: $200 Home Depot Gift Certificate, Ticket #091, Justin Dickson
Official Rules: Raffle Ticket Price is $100.00. Odds of winning are determined by the total number of tickets sold (325 total tickets available for purchase). Tickets can be sold for 90 days per the state raffle guidelines: September 5th thru December 3rd

Drawing: The drawing will take place on Fri., December 3rd at the Connecticut Sports Management Group, Inc. office at 975 Middle St. Unit G. Middletown, CT 06457.
Please Note: Raffle Tickets are available for purchase from September 5th through December 3rd. Ticket holders need not be present to win. Grand prize, 2nd prize & 3rd prize winners are responsible for all personal taxes. Prizes #4, #5, #6, #7, #8, #9, #10 & #11 not redeemable for cash. The total number of Raffle Tickets available for sale = 325.
Questions: Please contact our office at (860) 788 7041 or nutmeg@csmg.org.