Media from July 2016
---
Media from February 2016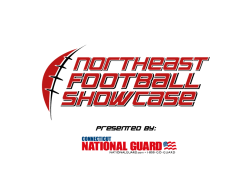 2016 Northeast Football Showcase presented by Connecticut Army National Guard - MAKE YOURSEF THE MAIN ATTRACTION
Middletown, CT- The Connecticut Sports Management Group, Inc. is proud to announce the 7th Annual Northeast Football Showcase presented by the Connecticut Army National Guard, which will be held Saturday, April 30th at Cheshire High School. The Northeast Football Showcase provides high school, prep school, and junior college football players with the opportunity to showcase their athletic abilities to Division II, Division III, and NAIA college coaches throughout the Northeast. This year's showcase is directed by Mike Ciotti, Assistant Football Coach at Daniel Hand High School in Madison, CT. 2016 is Coach Ciotti's 5th year as the Showcase Director. Coach Ciotti is a former Yale University player, and brings a wealth of knowledge and experience to this event.
Players from all across the Northeast will attend the Football Showcase to demonstrate their skills to college...read more
---
Media from April 2014
Nutmeg Games Registration
Friday, April 11, 2014
Registration for the 26th Annual ShopRite Nutmeg State Games, to be held July 12-27 in New Britain, is available online. There are openings for 22 individual and team sport offerings at www.nutmegstategames.org.
The Nutmeg State Games seeks to promote and reinforce the Olympic spirit of competition that values sportsmanship, effort, and achievement, and to help motivate personal development in physical fitness. More than 6,500 athletes, 1,500 volunteers, and 20,000-plus spectators are expected to come together in New Britain to be a part of the Games this July.
For the Nutmeg State Games, the state of Connecticut is divided into four regions: North, South, East, and West. Athletes will represent their region based on their residency. The various competitions will be held throughout Connecticut in more than 30 of the state's top athletics facilities.
---
Media from March 2014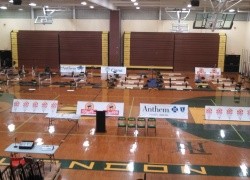 Southington, Berlin do well in first Connecticut High School Football Weight Lifting Competition
By CARL JOSEPHSON
On Saturday, a number of football teams from around the state competed in the first annual Connecticut High School Football Weight Lifting Competition at New London High School, hosted by the Nutmeg State Games.

Representing the area teams were Southington and Berlin, who brought players to New London so they could show off their strength. The Blue Knights were impressive, finishing in fourth place, lifting a grand total of 11,905 pounds.

The Redcoats finished 10th among the 19 teams in attendance, lifting a total of 9,990 pounds.

Open to players currently in ninth, 10th or 11th grade, the event was a huge success. Each team assigned three players to compete in three different events across five weight classes. The power clean, bench press and squat were the three events.
Patrick Fisher, who is the executive director of the Connecticut Sports Management Group,...read more
---
Visit Our Youtube Channel to check out Highlights from the Nutmeg and Masters Games, as well as the Northeast Football Showcase
Click Link HERE: http://www.youtube.com/channel/UCFuR_ybUKPBaoC7IEM0-4tw?feature=c4-feed-u
---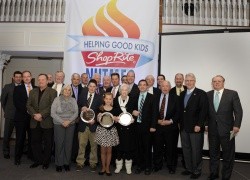 Nutmeg Director's Club Banquet honors athletes
Thursday, February 27, 2014 10:54 PM EST
By CARL JOSEPHSON
STAFF WRITER
SOUTHINGTON — The Nutmeg State Games and Connecticut Masters' Games honored three area heros with Athlete of the Year awards at the 20th Annual Director's Club Banquet Thursday night at the Aqua Turf Club in Southington.

In front of over 250 people, Newington's Marjorie Sasiela, Plainville's Patrick Creel and Farmington's Veronica Khokhryakova were all recognized for their athletic ability and selflessness towards other people.

Sasiela, who took up many different activities throughout her life including running, basketball, bowling and track and field events, received the Masters' Games Athlete of the Year.

It was an emotional night for Sasiela, who has been battling cancer since 1996. It was easy to hear in her voice just how appreciative she was for the award she received.[*]
"I'm overwhelmed by this wonderful honor that you have bestowed upon me," Sasiela...read more
---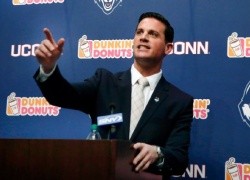 Diaco Spreads His Message At Director's Club Banquet
Southington, CT, USA
10:18 p.m. EST, February 27, 2014
SOUTHINGTON — Jim and Geno have done it.
So have the likes of Bobby Valentine, Mike Schmidt and Dan Duquette from the baseball world and Bill Raftery, Frank Layden Jazz and Digger Phelps from the basketball world.
And on Thursday night, UConn football coach Bob Diaco joined that prestigious group as the featured speaker at the 20th Director's Club Banquet, at the Aqua Turf Club, the kickoff fundraiser for the Nutmeg State Games.
Diaco certainly enjoyed talking about his team and engaging fans and potential fans.
"We're at the end of Week 6 of our strength and conditioning program and it has been a grueling piece for the team," Diaco said. "The team needs an incredible amount of work … not only physically but also mentally, but I will say this: I'm so excited to be working with these guys. They are a great bunch of guys to work with and when we get this thing...read more
---
Media from February 2014
Joe D'Ambrosio
---
Media from January 2014
Joe D'Ambrosio
---
Joe D'Ambrosio
---