Tyler Brown - 2022 Athlete of the Year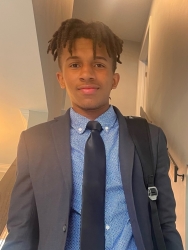 Tyler Brown was born and raised in Ellington, CT. Like most young children, his love of sports developed at an early age and he started participating in both Track and Field and Basketball in 2nd grade. He loves both sports and continues to do well in each. His goal is to be a dual sport athlete in high school and college and excel at the highest levels in basketball and track.
For Tyler, the competition is what he most enjoys – but not just the competition with others. He works extremely hard to improve his personal best in his times and scores. At the Nutmeg State Games, Tyler has participated in the Track and Field events in the 100 Meter and 200 Meter sprints as well as in the Long Jump and High Jump. Tyler has improved on his time and distances. In track and field Tyler's best performances include an 11.4 second 100m, a 23.2 in the 200m and 20' 1.5" in the long jump. He qualified for the New Balance Nationals indoor freshman invitational in the long jump and 60 meter dash and placed third in the long jump. He looks to improve on these performances during the outdoor track season.
In basketball, Tyler plays point guard and shooting guard. He is an unselfish player and he is proudest of the accomplishments of his team and teammates. He also has been recognized for his individual accomplishments including making several all-tournament teams and being named player of the tournament for several tournaments as well. He also won the coaches award for his JV play in high school this year.
Tyler is thankful for the coaches who have helped him learn and play the sports he loves. In basketball from his former AAU coaches Clinton Toomer of the Buccaneers and Kahari Beaufort of the Spartans to his current AAU coach Alex Cruz of Rhode Island Elite and his Kingswood Oxford Basketball coaches Brad Seamen and Justin Barall. In track and field, he made the varsity track team as an eighth grader and appreciates his Kingswood track coaches, Tricia Watson and David Baker. He is also proud to represent Lebron Athletic Club in track and field and appreciates all he has learned from Nick Lebron and Mike Lee.
The most important mentor in Tyler's life is his Dad who supports all of his athletic endeavors and encourages him to follow his dreams and pushes him to always put his best effort in everything he does.
Tyler has been described as a kind young man who believes in helping others. When one of his friends was nervous about running for the first time, he reassured her that it would be ok. He is also patient and kind when helping younger kids develop their basketball skills. Some of the younger kids in his neighborhood will gather at the hoop in his driveway and he helps them with their game. He also has volunteered at Camp KO which is a basketball development camp for kids sponsored by his high school.
For his dedication to personal achievement and to helping others, we recognize Tyler's embodiment of the Olympic Spirit in his actions and words and we are proud to present to him the 2022 ShopRite® Nutmeg Sate Games Athlete of the Year Award!