Gymnastics Meet
This year's Gymnastics Meet will be coordinated by Hal & Sally Rettstadt of Kinetic Kids, LLC.
The Gymnastics Meet will be held on the following days:
Monday, July 22nd - Individual and All Around Championships
Tuesday, July 23rd - Team (region) Championships
Please Note: Compulsory Gymnasts will have the option to use either the Old or New USAG Routines.
REGISTRATION INFORMATION: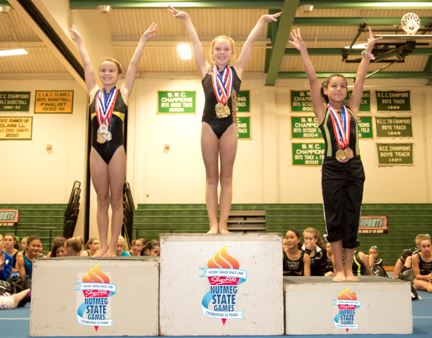 No alcoholic beverages or illegal substances are permitted in the possession of athletes.
Behavior on and off the competition field by any person's associated with the "Games" must follow the highest standards.
Use of foul or abusive language constitutes a violation of the Code of Conduct.
All athletes must respect the decisions of the officials and umpires during and after competitions. Any harassment will constitute a violation of the Code of Conduct.
Unruly behavior by spectators towards players, coaches, volunteers, and/or officials will not be tolerated. Such behavior may result in the dismissal of the offending spectator from the competition site.
Any participant's behavior deemed in violation of the Code of Conduct, as decided by the Nutmeg State Games administrative staff, subjects the competitor to expulsion from the "Games".
Level Prep-OP: Division Novice
Level Prep-OP: Division Intermediate
Level Prep-OP: Division Advanced

Level 4: Division Compulsory
Level 5: Division Compulsory
Level 6: Division Compulsory

(Compulsory Level 4, 5 & 6 - For experienced USAG/YMCA Level 4, 5 or 6 competitors.)
Please Note: Compulsory Gymnasts will have the option to use either the Old or New USAG Routines.


Level 7: Division Optional
Level 8: Division Optional

(Optional Level 7 & 8 - For experienced USAG/YMCA Level 7 or 8 competitors.)


Level 9 and 10: Division Open Optional

(Open Optional - For experienced USAG/YMCA Level 9, 10 or collegiate competitors.)
Age Breakdowns within levels will be determined after entries are received.

Coordinator reserves the right to break out levels based on participation.

Gymnasts may not drop down from their most recent competitive season level, but upward mobility to compete is permitted. All gymnasts must be accompanied by a personal coach who will assume responsibility for their pre-competition training and their safety at the competition.

Any competitor not accompanied by a coach will be unable to participate.
Due to the individual nature of the sport and its potential dangers, the Nutmeg State Games does not provide pre-meet training or coaching at the competition.

Another gymnast cannot take your place if you are unable to compete.
Please Note: Compulsory Gymnasts will have the option to use either the Old or New USAG Routines.
1st Day of the Gymnastics Meet (Monday, July 22nd):
Individual & All Around Event Championships

(Top 3 Medal for each Age Group in each level)


Session 1

Level 4, Level 5 and Level 6

Gym Opens: 9:00 AM
Set / Stretch: 9:30 AM
March In: 10:00 AM


Session 2

Level 7, Level 8, Level 9-10, PREP-OP

Set / Stretch: 2:00 PM
March In: 2:30 PM

2nd Day of the Gymnastics Meet (Tuesday, July 23rd):
Team Championship (Region) Meet - No Individual Event Medals

Medals for each competitor on the 1st, 2nd & 3rd Place Teams


The Top 2 finishers in each competitive level and division will be invited to the Championship Meet

Gym Opens: 9:30 AM
Set / Stretch: 10:00 AM
March In: 10:30 AM
Reminder: The Nutmeg State Games Meet Is not a sanctioned usa gymnastics meet. no scores count toward state meet qualification or mobility between levels.
Gymnasts competing in the class 4, 5, and 6 compulsory groups must perform the 2005 – 2013 compulsory routines. Optional Gymnasts may perform compulsory routines in part or in whole, however, they will be judged as Junior Olympic optional routines.
If Teams / Clubs will be ordering leotards for the Nutmeg State Games Gymnastics Meet you must fill out the Leotard Order Form and submit by June 10th!
Athletes compete by Region and leotard colors will be specific for each region (North, South, East & West).

Please completely fill out the leotard order form found by following the Leotard Order Form Link on this page to print the order form. BE SURE TO INCLUDE LEOTARD SIZE!!!!

Cost: $38.00

Please enclose a check or money order payable to Hal Rettstadt with leotard order and mail to:

Kinetic Kids, LLC
1 Jacks Hill Road #3AB
Oxford, CT 06478


Form and check must be postmarked by – JUNE 10th. No leotard orders will be accepted after this date.

Incomplete forms or forms without payment will be returned.

NO CHANGES IN SIZES CAN BE MADE. BE SURE TO ORDER CAREFULLY ACCORDING TO SIZE CHART ATTACHED!!!


Leotards will be distributed the day of the Gymnastics meet only.
The Nutmeg State Games administration works closely with all Connecticut media outlets regarding any interesting stories about athletes and teams that will be participating in the "Games". If you have an interesting story to tell, we are all ears!
Human interests stories typically address situations "off-the-court". Do you volunteer in the community? Are you great at something other than the sport you are playing? Are you following in the steps of a a sibling or parent? Of course, if you are doing something great on the court please provide us with all the details.
If you, your team or someone you know fits any of these questions, please pass along this information or feel free to contact our office, and we would be happy to coordinate coverage on their behalf. - Please send all info to info@nutmegstategames.org.
College Planning Seminar & Pizza Party!
Hosted by the Nutmeg State Games and Play in College
DON'T WAIT TO BE DISCOVERED!
The Nutmeg State Games have partnered with Play In College, a Student Information System for athletes that helps parents and student-athletes increase the chances to receive college scholarships, and become educated on the admissions process while making it easy for college coaches to find the right player for their program... Derrick Rodgers, former NFL player will provide insights and his personal experience of the college recruiting process....and just for fun a pizza party at the Games to get to know each other.
The College Planning Seminar is FREE for all Nutmeg State Games athletes, coaches, parents and the general public to attend.
To Register to Attend the FREE College Planning Seminar please click here!
Join the ROCK CATS and the Nutmeg State Games as we honor all participating athletes at the stadium.
All participating athletes will receive a Free Ticket. Additional tickets (for parents and friends) can be purchased for $5.00.
To receive your tickets please sign-up at: www.rockcats.com/nutmegstategames
Friday, July 12th - 7:05 PM
Trenton Thunder vs. New Britain Rock Cats